Design-audit
Design audit is required when the barriers of an existing IT product affect the user experience, spoil the total impression and lead to a decrease in the overall performance of the product. Audits of iOS and Android apps or usability analysis of web services include:
Interface research of identify usability issues, aesthetically incorrect look and feel, retardation and scripting errors, incorrect use of mobile platforms' headlines.
Analysis of application usability and ease of use.
Competitive analysis and strategy development for your IT product.
Development and testing of prototypes with updated UI/ UX design to improve efficiency.
Defining and measuring key performance metrics.
Design audit example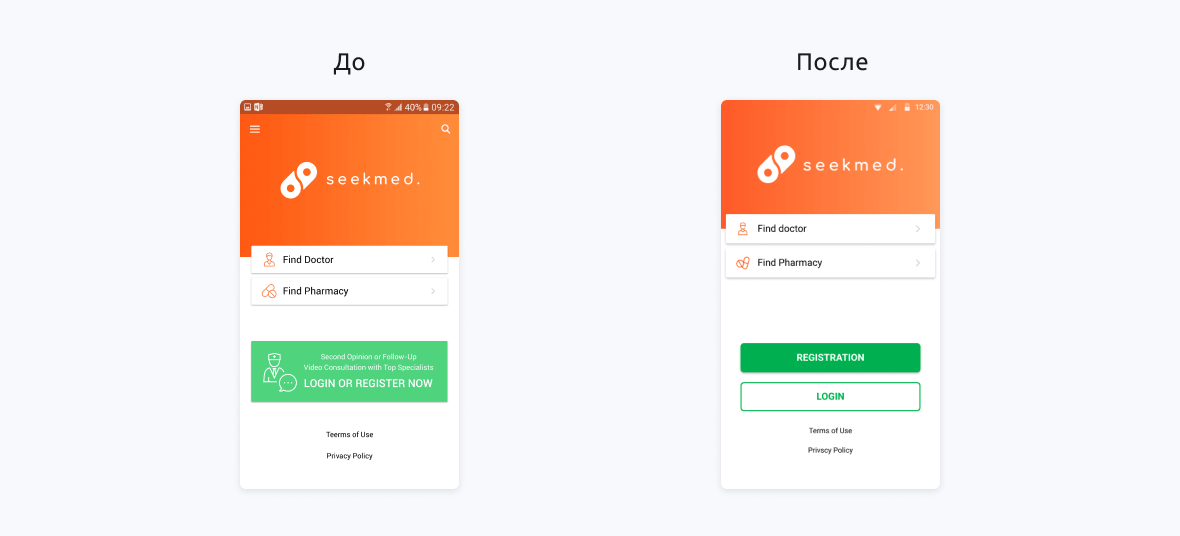 Problem

The application does not make much profit.

Solution

We have gathered the statistics on user activity, and we took a closer look at the key funnel. It turned out that the customer application had many weaknesses.

We started small. We reworked the UX of the main screen where users had problems finding a registration. And registered users were the backbone of the paying audience.

Result

Conversion of new users into the registered ones was increased by 1.5 times.

Next steps.

We continue to upgrade the application and monitor the status of distribution channels (ROI). Based on the observations and conclusions we are preparing a global upgrade of the application.
What will you get?
1. Pre-project preparation
Upcoming work plan in a form of a Gantt chart
Creating success metrics
2. Research, audit
Detailed analysis of the current product and identification of barriers to users
Plan for point or cardinal changes to eliminate the identified barriers
Measuring the results of implemented changes
Forming a product development strategy
© 2011–2021 Omega. All rights reserved